Winter Dry Fly Fishing on the Lower Yuba River
This winter I spent most of my time trying to finish a business book I am writing, plus with the unusually heavy precipitation we received, I have not thought much about fishing. In December, my fishing buddy, Earl Libby, sold his house in Pleasanton and purchased one close to Grass Valley/ Nevada City in an area named Penn Valley. His new residence is near Englebright Dam and the Lower Yuba flows out of Englebright and is reported to be a fantastic steelhead and rainbow fishery. I had never fished the Lower Yuba and when I checked the Internet for information on this river I found that it is open for year-round trout fishing. I also learned that this part of the river is known for its winter dry fly fishing. The main dry flies are a stonefly called a Skwala, a mayfly called a March Brown, and several other flies that hatch in the afternoons, one of which resembles a Pale Morning Dun.
Thursday, February 17 Earl had to take a rug to his new home so we left his house in Pleasanton about 9:30 a.m. and reached the Highway 20 Bridge over the Yuba about 11:30. We checked out the river under the bridge and talked to a fisherman who was going back down to the water after taking some time off for lunch. He told us he had hooked a rainbow of about 20 inches that morning but had not been able to land it. He also said the river was higher than it had been, which occurs when water is released from Englebright Reservoir.
It was about 60 degrees as we rigged up and the sun was trying to break through the clouds. We walked upstream about half a mile next to a gravel operation before we began fishing. Both Earl and I started fishing with large, heavy nymphs for weight, and a small (#16 or #18) nymph on a dropper. The river was clear but we could only wade 3 or 4 feet out from the bank before it became too deep. In this area the river is fairly wide although a person with a good arm could throw a stone across it in most places. The Lower Yuba is flat and consists of riffles and white water separated by slow, deep pools that are as much as 50 yards long. Although not as big as the Lower Sacramento River, the American River in the city of Sacramento, or the Klamath River, the Lower Yuba is still a big a trout stream by California standards.
Earl started fishing as soon as we reached the river and I walked upstream about 100 yards and began fishing a small pool that formed next to the bank. As I fished up to the head of the pool without getting into the water, I got a strike where the pool was about 4 feet deep. When I set the hook the fish immediately went to the deepest part of the pool and was on my line for only 10 to 15 seconds before I lost it. I was very pleased that I had hooked a fish so soon after starting, and thought we might get a lot of action.
After losing the first fish, I moved upstream about 30 yards past some slow water to an area where the current formed a long, deep pool about 10 feet off the bank. The current and the rocks under water created some surface motion. On the other side of the channel the water was choppy and not as deep as where I was fishing. About every 30 minutes I would see a trout jump completely out of the river in the choppy water. Unfortunately, I couldn't cast across the channel without getting an unnatural drift with my flies.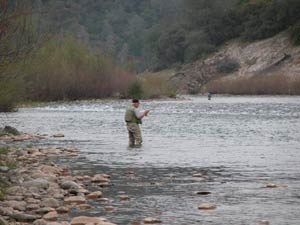 I fished the channel and worked my way upstream a step or two after every 5 or 6 casts. After fishing this way for about half an hour, as my line drifted past me, I received a hard strike. The fish took the small nymph on the dropper in 4 or 5 feet of water about six feet from where I was standing. The trout first moved upstream a short way and then downstream, staying in the deepest part of the channel. When the fish was unable to throw the hook in the deep water, it moved downstream and jumped completely out of the water about 12 feet from me. It was a very red rainbow that appeared to be at least 20 inches long, or maybe even a little longer. After jumping, he slowly made his way down stream and I followed him for 10 yards are so before the hook came out and I lost him. I was very disappointed because that was a nice fish.
After losing the second fish, I continued working my way up to the head of channel, which formed a broad pool. Earl appeared and said that he had not had a strike and that he was on his way upstream to fish the next long pool that had riffles and white water. By this time in the afternoon we were seeing some Skwala Stoneflies and March Browns in the air as well as on the water. There were more fish jumping and we watched as a person who had moved to the tail of the channel where I had been fishing an hour earlier, caught several fish on a dry fly. I switched to a big attractor dry fly and on my second cast, when the fly was only about 5 feet from me, a fish came up and turned next to the fly. The fish was interested in the fly, but I don't think it actually struck it.
I continued alternating between wet flies and dry flies all afternoon, but had no more strikes. Earl and I fished upstream for at least another ½ mile, and Earl, late in the day, said he had a strike and a fish on for a few minutes in some white water below a little shelf that crossed the river.
About 4:30 we called it a day. Back at the car we talked to several fishermen who said that a few days earlier, when the water was lower, they had a couple of good days on the Yuba where they hooked 8 to 10 fish. But on this day no one seemed to be having that kind of success.
Friday, February 18 We went back to the same area of the river we had fished the day before. It had rained a little that morning before we started, but the temperature was about the same as during the previous day. The river was lower than it had been the day before and there seemed to be about the same number of cars parked under the bridge.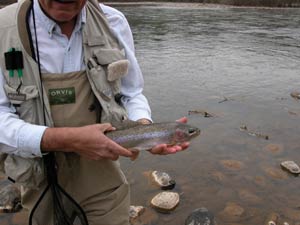 We began fishing about 11:00 a.m. and I alternated between wet flies and dry flies all day. There were even more flies in the air that afternoon and we saw fish sporadically jumping all afternoon. I finally hooked a fish just before we quit in the general area where Earl had hooked a fish the day before. I hooked the fish with the same heavy wet fly and nymph on a dropper combination that I had used to hook the two fish the day before. Again, I wasn't able to land it and Earl said he did not get a strike all day.
Thursday, March 3 I was miffed that I hadn't been able to land even one fish on the Yuba, so I talked my wife into riding up to the river with me for a day trip. We arrived at the Highway 20 Bridge about 11:00 a.m., and after I rigged up she drove into Nevada City for a few hours. She agreed to come back to pick me up around 3:30 so we could start the 2 hour drive home. This gave me at least 3 hours for fishing. There were only 4 or 5 cars parked under the bridge and it looked like most of these fishers were in the river right under the bridge.
I fished the same area I fished two weeks earlier, and I again started with a heavy wet fly to get depth and attached a #16 Pheasant Tail on the dropper. I noticed as soon as I got to the river that there were more insects in the air than had been there two weeks earlier. As I fished upstream, I alternated between my wet fly tandem and a #16 dry fly that resembled a March Brown. About 2:30, when I had just switched back to wet flies, two fish took flies floating on the surface in the current right next to me. I was tempted to immediately change back to dry flies, but decided to first try several wet fly presentations where the fish had turned. On the third drift under the spot where the fish closest to me had surfaced, I got a good strike. The fish was a fighter and took me downstream about 15 yards before it began to tire. It never did jump although it measured 16 inches and was a heavy, very red rainbow. I suppose the fish are so colorful in this river now because they are ready to spawn. Anyway, I was glad to finally land a Lower Yuba rainbow.
I fished on upstream for another hour, continuing to change between wet and dry flies, but did not have any more strikes. A fellow fishing dry flies across the river from me caught a fish just before I quit for the day. From what I could see, it appeared to be about 12 inches long. He was making long casts and always had a lot of line on the water, so I wouldn't be surprised if he had missed several strikes. When I left there were still lots of insects in the air and on the water, and fish were still sporadically feeding on the surface.
Wednesday, March 15 Earl called to let me know he had to deliver a gas barbeque to his new home and wanted to know if I was interested in fishing the Yuba again. I said I was and so we drove up on February 23 by way of Roseville where he picked up the barbeque. About 12:30 we again parked under the Highway 20 Bridge. This time there were 12 cars and trucks parked under the bridge. The sun was out and the temperature was in the mid-60's. Earl wanted to fish the same water so we again walked about 1/2 mile up river. As we walked, we saw fishermen in all the good-looking water, on both sides of the river.
Earl began with a March Brown dry fly and I started with my usual two wet-fly arrangement. There were Skwalas, March Browns and a light fly that resembled a Pale Morning Dun in the air and bouncing on the river. After we had been fishing for less than an hour, a guy came up behind me and caught two nice fish on dry flies in an area I had previously covered with wet flies. I switched to a #16 parachute Adams and about 3:00 p.m. hooked a nice fish in about 5 feet of water 15 feet from where I was wading. This fish came out of the water 3 times and was very strong. I had to run downstream with the fish for quite a way before it began to tire. Earl had seen the fish jump and came down to me with his net and to give me a hand. I was surprised to see that the fish was only 15 inches long. The way it muscled its way downstream made me think I had tied into an enormous fish. It fought more than the other fish I had hooked on the Yuba. On the other hand, if the fish had been bigger or stronger, I doubt that I could have landed it.
I didn't get any more strikes that afternoon, but as we were making our way back to the car, Earl had four strikes on a dry fly in a flat pool just above some fast water. As we broke down our gear at the car, we talked to several fishermen who were also leaving for the day, and it seemed like most people caught at least one fish – all on dry flies.
Thursday, March 16 We didn't want to fish the same water the next day, so we drove down-river for 5 or 6 miles along a road used mainly by gravel trucks, while we looked for an easy access to the river. We couldn't find many that did not entail a lot of walking. We finally settled on a spot about 2 miles below the Highway 20 Bridge where the river divided and we were able to cross some shallow water to an island. While we were getting set up, five drift boats came down river and several fished through the area we had walked to. Two of the boats stopped and their occupants got out and fished this area for a short time. It appears that the drift boats do not fish long when they stop because they have so much water to cover.
I crossed the remaining arm of the river just above the island and fished the far bank while Earl fished the island side of the river. The island caused the river to form a long pool of about 75 yards that was deeper near the bank where I fished. We both began with dry flies because we could see some fish feeding on the surface near Earl. Although Earl fished with a single fly, I included a Pheasant Tail soft hackle on a dropper with a March Brown.
Earl began getting strikes right away as he worked up the bank toward the head of the pool and in the hour and one-half it took him to fish that water, he had six strikes and landed four rainbows. I, on the other side of the river, tried everything and every fly I could think of, and didn't see a fish or get a strike. It was maddening. When we reached the head of the pool, we decided to quit for the day.
As we crossed a wide sandy area about 3 or 4 feet deep to get back to the car, we could see probably 100 large fish holding in the current. They were spread out over several hundred yards and were plainly visible. I don't know if they were trout or steelhead, but some were a good two feet long. My guess is that they were holding in that shallow water as a prelude to spawning. I wouldn't think they would spawn in that sandy area, since I have always been told they prefer to spawn in gravel. But then, who knows—
Anyway, my overall impression of the Lower Yuba River is that it is very easy to fish for such a large river, its fish are quite large, and it is really nice to be able to dry fly fish in the middle of winter so close to home. I can see myself spending a lot of time there as I try to learn the idiosyncrasies of this river.